What's on Farmall Cub (dot) Info?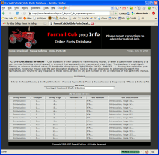 The most popular feature is the Online Parts Database, based on the original manuscript from International Harvester entitled the "TC-37F Parts Manual, (Rev 3)".

This textual and graphical database can be viewed, searched, and filtered easily with a few clicks of the mouse! You can find every screw, washer, seal, or bearing on the tractor in seconds. In addition, each part links directly to its scanned original manual page, as well as to related articles in the FarmallCub.Com forums! Hover your mouse over *every* field on the screen because most of them take you somewhere special...

If you want to use the database "offline", you can download an abridged copy in Microsoft Access or Excel formats from the Downloads section. The database is constantly being maintained and updated, and the most recent edition will always be available online.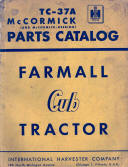 In addition, many of the original manuals regarding the Farmall Cub, its original implements and many third-party implements are available as online Manual Galleries consisting of thumbnails and full-sized scans of *every* manual page. These provide for quick searching across pages and zooming to a full-sized image very quickly. (Be wary of online auctions charging for the same material but of questionable quality. If you want to get full copies of the manuals, there are high-quality reproductions for many of them available from Binder Books.)
Why does Farmall Cub (dot) Info exist?

I always admired the old red tractors with the long exposed steering column and the body offset to the side, but I didn't get much time to learn about them until 2004, when I finally bought a 1952 Farmall Cub (with "CultiVision" as the offset style is called,) and the fun and frustration began.

Instead of a "restoration" I decided to "refresh" this old workhorse and put it to good use. It came about with an immense amount of patience and advice from my newfound friends on FarmallCub.Com, and I smiled every time I used it. I sold that tractor (and its sibling, a 1952 Farmall Super A) in 2007, but Farmall Cub (dot) Info remains as an attempt to provide something back to the community of gentlemen and scholars that welcomed and assisted me during those years.

And they know I'm going to need them again, because no true enthusiast owns just ONE Cub, or stays away for long...